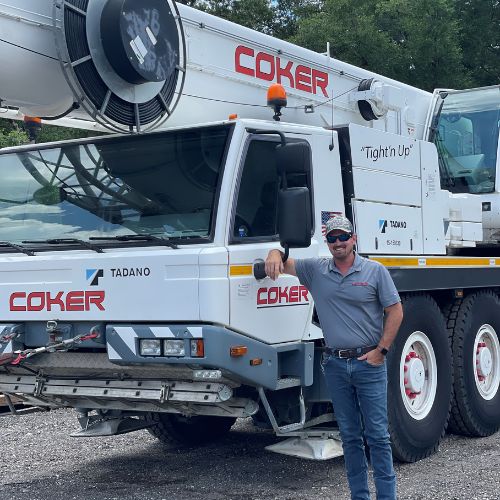 Kyle Coker, President & CEO
Kyle Coker was born and raised in Fernandina Beach, Florida to a family of lifelong entrepreneurs. After graduating from high school, he attended Florida Atlantic University to pursue an Engineering degree, but soon realized he was a better fit in the working world. After working in the marine industry for a short period, he began working on and operating cranes. Finding his calling, he set out in 2004 with a single boom truck and a dream to build a reputable company that would focus on quality work with great customer service.
Over the years, with the help of great customers and even better employees, the Coker brand has expanded into a full-service Crane & Rigging and Mechanical Contracting company, home to some of the best craftsman in the industry.
In his free time, you can find Kyle with his family, fishing, or enjoying all the things this great country has to offer!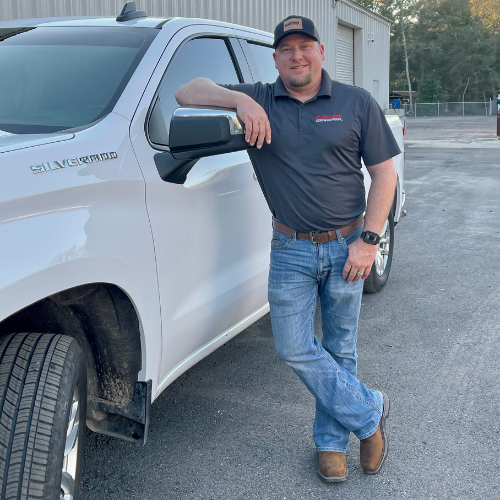 Wesley Haddock, Vice President of Operations
Wesley Haddock is our Vice President of Operations. He started in the pipefitter industry in 2001 right after graduating from high school. He signed up with Local Union 234 and attended their 5-year apprenticeship program where he became a plumber.
In 2008, he started running a welding service truck, which he ran for seven years. He then moved on to a superintendent position for four years. In 2019, he took on a Project Manager position with Coker and in 2023 became the Vice President of Operations. He was able to start a piping division which has expanded the company in many ways. He has been able to reach out to many different industries and has grown great new working relationships.
The piping division performs extensive work in the pulp and paper industries from small pipe repairs to installing new equipment and mechanical systems. They have completed hundreds of projects in just a few years' time. Wesley has helped Coker expand out to do more work with military bases, schools, new construction, and more.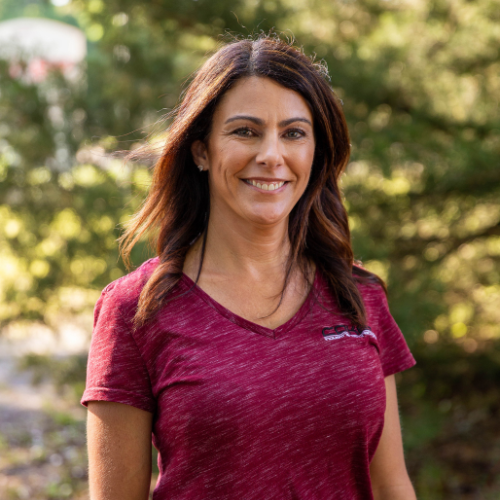 Jeni Bentley, Administrative Director
Jeni Bentley is our Administrative Director and has been with Coker since 2014. She brings over 20 years of administrative experience in Office Management, Human Resources, and Accounting. She provides administrative support to over 45 staff members. She is responsible for all office procedures, assists in the development of company policy and procedures, manages and oversees the administration of HR policies, programs, and practices, and maintains accounts payable, receivables, and billing for Coker's wide range of services.
In her free time, Jeni enjoys spending time with her family on the boat, camping, and traveling as much as possible.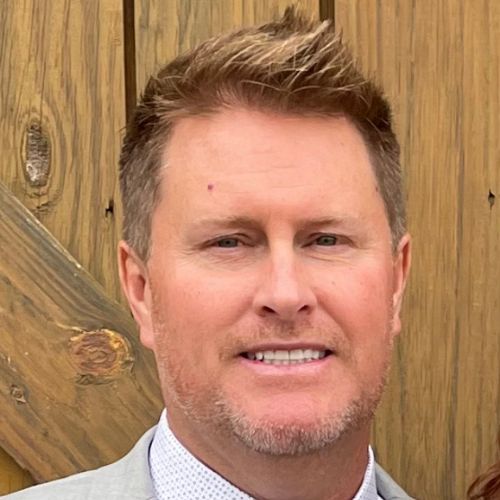 Brad James, Business Development Manager
Brad James is our Business Development Manager. He is an integral contributor to the growth of our company and he works diligently to foster great relationships with our clients. 
With nearly 16 years of experience in the industrial facilities market, Brad brings great expertise to our team. Great communication and honesty are two key pillars of Brad's work ethic. 
In his free time, Brad enjoys spending time with family and friends, golfing, surfing and attending mission trips with his church. Brad and his wife take a trip to Mexico every year to unplug and spend quality time together.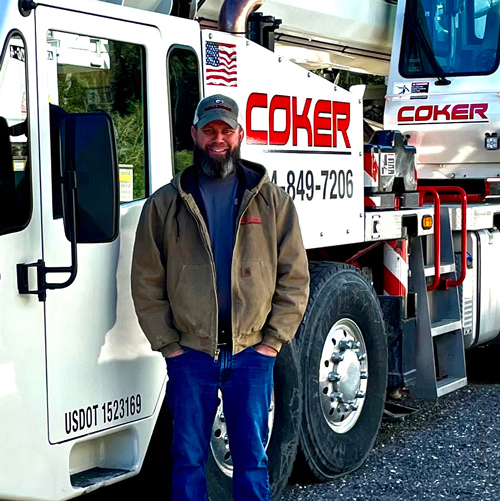 Blake Foster, Crane Operations Manager
Blake Foster is our Crane Operations Manager. He brought his years of experience to Coker in 2012. He oversees the day-to-day crane and rigging operations, equipment maintenance, and scheduling while maintaining great customer relationships.
He worked in industrial contracting for six years before becoming a crane operator at his previous employer. He then brought his knowledge and experience to Coker in 2012 as a Crane Operator. He was our Lead Operator for several years and then moved up to Operations Manager in 2021.
In his free time, you can find him hunting, fishing, and hanging out with friends and family.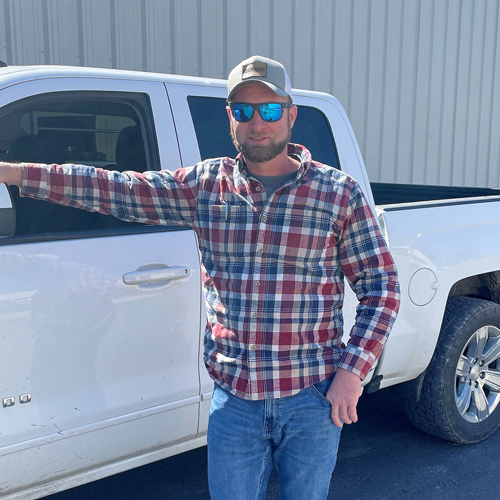 Adam Davis, Mechanical Project Manager
Adam Davis is our Mechanical Project Manager. He has worked at Coker since 2016. Adam schedules meetings with potential customers to estimate mechanical repairs or new installations. Once the job has been secured, he thoroughly plans and schedules all aspects of the job and oversees those projects until completion.
Adam began working as a Millwright helper when he graduated from high school. He attended the Florida Millwrights Training center combined with on-the-job training, where he gained the knowledge and skill to become a Journeyman Millwright. As he has moved forward in his career, Adam has become a Team Leader and Project Manager at Coker.
During his free time, Adam enjoys spending time with family, attending his children's sporting events, hunting, fishing, and camping.
"At Coker, you are treated like family and everyone works together as a team. Help is never more than a phone call away. #TeamCoker." – Adam Davis
John Adams is our Shop Manager. He keeps everything running smoothly in the shop including receiving and storage, managing supplies, and the fleet of trucks and cranes. He is a valuable asset to our team and we appreciate all he does to keep things running efficiently.
Prior to working for Coker, he spent four and a half years in the United States Air Force. Afterwords, he worked for Jacksonville Aviation Authority as a Field Maintenance Supervisor for 30 years.
In his free time, John enjoys spending time with his family while fishing, hunting and camping. He also stays busy with his three grandsons and their activities.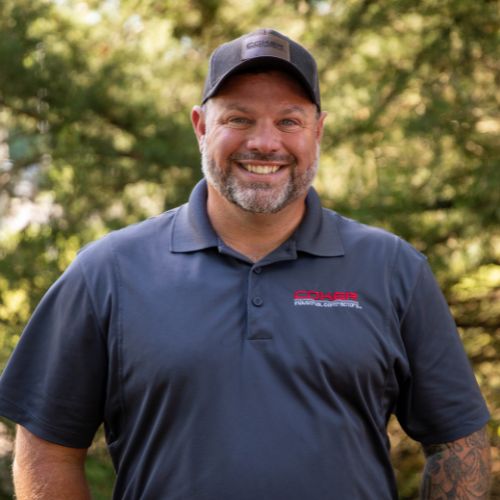 Chad Barnett, Project Manager
Chad Barnett is a Project Manager at Coker. He brings 19 years of experience in the trade as a Service Truck Technician and a Commercial General Foreman. In his free time, he enjoys spending time outdoors with friends and family.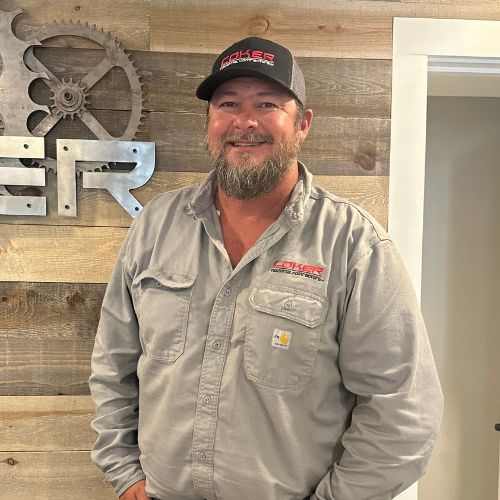 Sam Lindsey, General Superintendent
Sam Lindsey is our General Superintendent. He's been a huge part of the success and growth of our Piping division and has been a proud member of the Local Union 234 for 21 years. He says he loves the atmosphere at Coker. 
"It really seems like everyone is on board with whatever project we have going on. We really have a great bunch of people working together." – Sam Lindsey
He loves to spend his free time with his family, deer hunting, lake bass fishing, and a round of golf every once in a while. 
One of his favorite quotes is: "You have to tread through rough waters to appreciate calm seas."